James Wallace Gitchel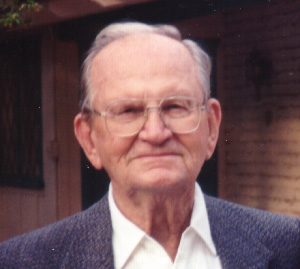 Obituary Notice
James Wallace Gitchel of Little Rock, passed away June 23, 2003, and went to join his beloved wife, Betty, who preceded him in death by just over two months. Wally was born July 25, 1912, in Little Rock, the son of Guy Wallace Gitchel and Eura Jane Neaville Gitchel, and was a lifelong resident of Little Rock. He attended Little Rock public schools and graduated from Branham & Hughes Military Academy. After spending one year at Hendrix College, Wally returned to Little Rock. He spent most of his working fife as a salesman with Hollis & Company, traveling through the Ozarks selling industrial supplies. On April 17, 1937, Wally married Betty Denty. Betty was his true love and he devoted the rest of his fife to her and his family.
Wally is survived by his two sons, Wallace Denty Gitchel and his wife Charlotte John of Little Rock and Samuel James Gitchel and his wife Nancy Bleile of Fresno, California; two grandsons, Wallace Denty Gitchel, Jr. and his wife Beth of Fayetteville and James Benjamin Gitchel and his wife Hannah of Eureka Springs; one step-grandson, David John and his wife Melissa of Little Rock; two step-granddaughters, Devon Rush and Anne Bleile-Kratzer of Los Angeles, California; one great-grandson, Quinton Wallace Gitchel; and two step-great-granddaughters, Haley Cashion John and Porter Melissa John.
The family will gather in a private, graveside tribute to Wally. Arrangements are under the direction of Ruebel Funeral Home.
In lieu of flowers, memorials may be made to Pulaski Heights United Methodist Church, Good Shepherd Ecumenical Retirement Center, or a favorite charity.
---
Register Book
Paul Merritt, CPA
Little Rock, Arkansas
Email: pmerritt@aristotle.net

You will always be missed "Wally." you were a man of principle, and my greatest teacher, along with "Nanny".
Dent Gitchel Jr.
Fayetteville, Arkansas
Email: dentgitchel@hotmail.com
---