Miriam Frances Glover Fagan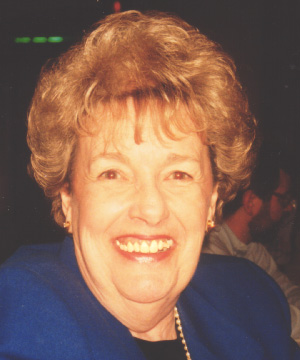 Obituary Notice
Miriam Frances Glover Fagan, 74, of Little Rock, died Thursday, February 27, 2003. She was a member of Second Presbyterian Church in Little Rock. Frances was born November 30,1928, in Lonoke, Arkansas. She graduated from Lonoke High School in 1946 and attended Hendrix College in Conway.
Frances was active in her church and many civic and charitable organizations. She served as a Deacon and Sunday School Teacher at Second Presbyterian Church. She was a former Girl Scout Leader, PTA President at Pulaski Heights Junior High School, and she was a past junior board member of the Florence Crittenden Home. Frances was an early volunteer for the Little Rock Civic Ballet, the fore-runner of Ballet Arkansas.
For many years Frances was involved with American Field Service, a foreign exchange student program, which led to a joyful, decades long relationship with Else Hope Kobbe of Bergen, Norway, whom she regarded as a daughter.
She was preceded in death by her parents, Smith and Edna Gilbert Glover of Lonoke as well as her grandparents, S.S. and Charity Lou Glover, early members of the Lonoke Community, and Fred and Savannah Gilbert who settled in Lonoke from Minnesota.
Survivors include her husband of 54 years, Ellis M. Fagan III; two sons and daughters-in-law and one daughter and son-in-law: David and Nancy Fagan of Scottsdale, Arizona; Fran and Joe Holmes and Warren and Pam Fagan, all of Little Rock; and three grandchildren, Anna Mabrey of Tempe, Arizona, and Winston and Carter Fagan of Scottsdale, Arizona.
A memorial service will be held Monday at 11 a.m. at Second Presbyterian Church in Little Rock by Dr. Karen Akin. Private burial will be at Roselawn Cemetery.
Visitation will be held Sunday from 2 p.m. to 4 p.m. at Ruebel Funeral Home, 6313 West Markham Street, Little Rock. In lieu of flowers, the family requests memorials be made to Second Presbyterian Church, 600 Pleasant Valley Drive, Little Rock, Arkansas 72227, Arkansas Hospice, 2200 Ft. Roots Drive, North Little Rock, Arkansas 72114, Shrine Hospital for Children c/o Scimitar Shrine Temple, 1 Scimitar Circle, Little Rock, Arkansas 72209 or the charity of your choice.
---
Register Book
---