James Edward Doherty III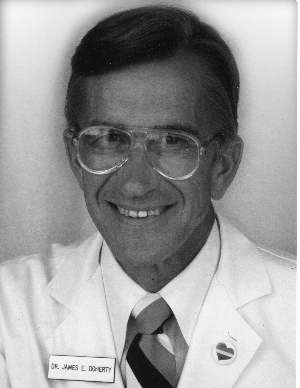 Obituary Notice
James Edward Doherty III, M.D., age 79, of Little Rock, died Wednesday, October 29, 2003. He was born in Newport, Arkansas where he graduated from high school. He later attended the University of Arkansas at Fayetteville receiving his B.S. degree in medicine (1944), and the University of Arkansas School of Medicine in Little Rock receiving his M.D. degree (1946). While at the University, he was a cadet in the Army ROTC, later enlisting in the U.S. Army serving as 1st Lt. and later Captain, being discharged in 1949. His internship was with Columbia City Hospital, Columbus, Georgia (1946-47), with his residency at the University of Arkansas Medical Center in Little Rock (1949-52). From 1952 until his retirement he held positions at U.A.M.S.C. as Instructor of Internal Medicine, Director of the Cardiology Division, Program Director for the Cardiovascular Training Grant from the National Heart Institute, Professor of Medicine, Professor of Pharmacology, and Director of Cardiovascular Research. He also was the staff physician in Cardiology at the Veterans Administration Hospital as well as the Chief of the Cardiology Section of the hospital. He was also on staff at Baptist and Doctor's Hospitals.
During his career he authored 184 scientific papers and made 327 presentations at national and international medical conferences on his cardiovascular medical research. Other organizations Dr. Doherty was involved with included the Sigma Chi and Phi Chi Fraternities, University of Arkansas Alumni Association, Little Rock Racquet Club, Razorback Club, Arkansas Arts Center, Arkansas Sympathy Society, Arkansas Caduceus Club (1946 lass Agent), Quapaw Quarter Association, U.A.M.S. Scuba Club, Society of Sigma XI (research in science) President of Little Rock Chapter 1976-77, Society of Nuclear Medicine, American Medical Association, Fellow of American College of Cardiology (Governor of Arkansas chapter), once served as president of the Association of University Cardiologists.
Dr. Doherty received many awards including: The AMA Physician's Recognition Award for 1972 and 1979, The 1975 Casmir Funk Award from the Association of Military Surgeons, and the 1985 Robert Shields Abernathy Award for Excellence in Internal Medicine. He was a past director of the board of the Arkansas Heart Association and numerous committees.
He is survived by his son, Richard E. Doherty and wife Jan, his daughter M. Elise Doherty, grandson John Robert Doherty and granddaughter Kathleen Elise Doherty, of all of Dallas, Texas. There will be a graveside service at Walnut Grove Cemetery in Newport, Arkansas at 1:00 p.m. Saturday, officiated by The Reverend Middleton Wootten.
Services are under the direction of Ruebel Funeral Home.
In lieu of flowers, memorials should be made to the Donald W. Reynolds Center on Aging, 4301 West Markham Street, Slot 748, Little Rock, Arkansas 72205.
---
Directions to Cemetery:
* From Hwy US 67 take exit #83 and go West on Stegall Rd. (Hwy 384). As it turns into McLain Street keep going 4-5 blocks past intersection with Pecan Street. Turn right (North) to Lockwood Drive. Look for cemetery gates.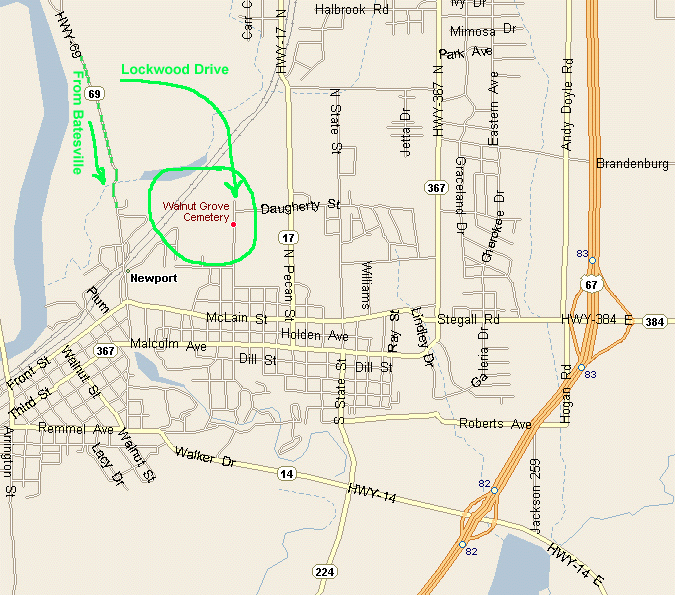 ---
Register Book
I am thinking of you in your time of mourning. Your dad was always very sweet and nice to me and I am missing him.
Sheila Talley
PSA, Cardiology Office of VA hospital
Scott, AR
Email: sheila.talley2@med.va.gov
I will truly miss my office mate. He was such a giving person and always wanted to help. I offer my prayers and sympathies.
Suzanne Trussell
Nurse Practitioner/ VA Hospital
Little Rock, Arkansas
---