Ernest Elmore Campbell, Jr.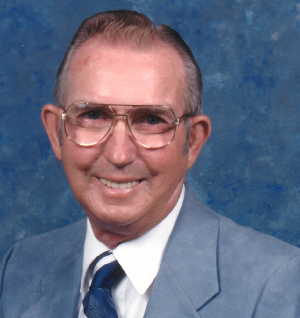 Obituary Notice
Ernest Elmore Campbell, Jr. of Perryville, Arkansas, died Monday, October 13, 2003. He was born in Little Rock, graduating from North Little Rock High School. He later joined the U. S. Army, 8th Army Air Force Military Police, during World War II, serving in England, France and Germany. He was honored by then General Dwight D. Eisenhower as the best dressed soldier in the European Theatre. After the war Ernest returned to North Little Rock where he was owner-operator of the Standard Ice Company, delivering ice to homes and businesses for 20 years before retirement.
He then became a salesman for Wonder Bread retiring after 20 years of service. Ernest loved his family and home on Harris Break Lake, of which he spent many enjoyable hours caring for. He also loved fishing, hunting and his church, Second Baptist Church of Perryville of which he helped construct.
He is survived by his wife Frances McCranie of Perryville, two sons, Richard Ernest Key and wife Connie of Little Rock, Ernest E. Campbell and wife Gail of Conway, two daughters, Janice Acre and husband Jack of Little Rock, Arlyne Cherven and husband James of Roland, 12 grandchildren; Richard Ernest Key, Josh Campbell, James Myers, Beth DeBra, Courtney Ghormley, Shannon Parks, Deedee Forsythe, Frances Gresham, Karla Cherven, Diana Spesia, Tracy O'Callaghan, Cheryl Choate, 13 great-grandchildren; Sloan DeBra, Kalissa Campbell, Corey Key, Ashley Key, J.P. Padgett, Samantha Padgett, Austin Myers, Eric Myers, Kristen Choate, Trea Choate, Jason Cherven, Nicole Spesia, and Emily Spesia.
There will be a visitation Wednesday from 6:00 to 8:00 pm at Ruebel Funeral Home followed by a graveside funeral service Thursday at 12:00 noon at Pine Crest Cemetery officiated by Reverends Mike Atkinson and Cleo Young.
Arrangements are under the direction of Ruebel Funeral Home.
---
Register Book
Let us all remember the very, very good times we shared. God Bless you all. Love, Robin Givens Babbitt, David Babbitt, Mistica Phillips, D. Johnson, & Helen Johnson
Robin Givens Babbitt
Bauxite, Arkansas
Email: Robin.Babbitt@aceglass.net
Ernie and Gail, I am so sorry for your loss and that I won't be able to be there. Please know you are in my thoughts and prayers. At times when we hurt the most is when God is nearest to us. Draw strength and peace from Him.
Elaine Parks
Warsaw, Missouri
Mrs.Campbell hey it's Erica. Iam so sorry about Mr. Campbell. I loved him alot and thought of him like a grandfather. He was a great person that lots of people will miss. You and Mr. Campbell have done a lot for Mom and I and we appreciate it Greatly. I remember when we first met and moved into the trailer,the stormy nights of waiting out in the cellar for the all clear,and of course all the fundraisers which Mr. Campbell always had to have. I will always remember him with a special love in my heart and your family will be in my prayers always.
Love you always,
Erica Rutherford
Perryville, Arkansas
We came to know Mr. Campbell and his wonderful family when he and my dad shared a room at Sempercare at BMC. You are all such special people, and our thoughts and prayers go out to each of you. Before I even met any of you, my dad would tell me what a close, loving family you all were. Hold on to that, and God Bless!
Susan Starr Biggs
Daughter of Truail "T.L." Starr"
Maumelle, Arkansas
Email: susbiggs@yahoo.com
---