Charles C. "Buddy" Campbell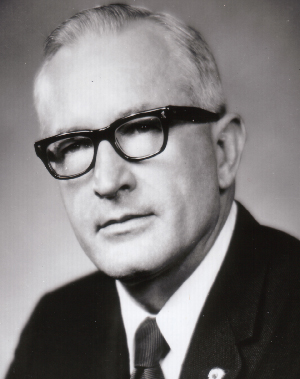 Obituary Notice
Charles C. "Buddy" Campbell, age 79, died at his home on June 5, 2003. He was born in Bolivar, Tennessee and move to Little Rock in 1929.
Campbell was dedicated to his church, Pulaski Heights Presbyterian, and served several terms as both Deacon and Elder. He taught Sunday School for the youth division and was active in several building fund campaigns.
He had a distinguished career in insurance for 45 years. At his retirement in 1991, he was Executive Vice-President of Rebsamen Insurance. He held many positions in the Arkansas Association of Insurance Agents and in 1973 was the Association's recipient of the prestigious Allan Kennedy Memorial Award. He also served as President of Intersure, a group of large agencies in the United States, Canada, England and Puerto Rico.
In addition to an active business life, he devoted much time to volunteer work. In 1970, he was elected International President of Optimist International. He was the Charter President of the Optimist International Foundation. He served in most positions of the Optimist Club of Greater Little Rock and the Arkansas District and was a member at his death. He joined the local Optimist Club in 1956.
Campbell was a member of the Board of Directors of the Little Rock Boys and Girls Clubs for 26 years and served as President in 1974. In 1976, he served as General Chairman for fund raising for the new Billy Mitchell and James Penick Boys and Girls Clubs.
His services included many years of work with Presbyterian Village, Evergreen Facilities, Little Rock Chamber of Commerce, Salvation Army and United Way Campaigns.
In World War II, he served as a United States Navy carrier pilot flying the TBM Avenger Torpedo plane. He participated in the campaigns of Lingayen Gulf (Philippines), Iwo Jima and Okinawa and was awarded the Air Medal with two clusters. Upon return to civilian life, he maintained activity in the Naval Air Reserve as a weekend warrior from 1946 to 1962 and retired at the rank of Commander, U.S.N.R. - R.
He was a member of the American Legion "Doughboys" baseball team from 1937-1940. This team won the State Title all four years and went to the finals of the Sectional Tournament two of the four years. He was a catcher.
He is survived by Johnsye Campbell, his wife of 53 years; four children - Terri Korn and husband Russ of Fernandina Beach, Florida, Chuck Campbell and his wife Dana of Atlanta, Georgia, Phil Campbell and his wife Becky of Little Rock, and Pam Plummer and her husband Frank of Little Rock; three grandchildren - Lydia and Thomas Campbell and Brent Sodman; and step-grandchildren Hunter and Ross Cooper, and David, Sarah and Michael Plummer.
Visitation will be held on Sunday, June 8, 2003, from 2:00 p.m. to 4:00 p.m. at the Ruebel Funeral Home, 6313 W. Markham Street. A memorial service will be held at 11:00 a.m. on Monday, June 9, 2003, at Pulaski Heights Presbyterian Church, 4401 Woodlawn. A private family internment was held prior to the service.
Memorials may be made to Pulaski Heights Presbyterian Church, the Little Rock Boys and Girls Club, or the Optimist International Foundation (4494 Lindell Blvd., St. Louis, MO 63108-2498). Arrangements are by Ruebel Funeral Home.
---
Register Book
I have had the honor of knowing Mr. Campbell's daughter Terri for 22 years. To say that she has touched my life and the lives of the hundreds of students she taught during her career is an understatement. My sincerest sympathies go out to Terri and to the entire Campbell family. Please know you are in my thoughts and prayers.
Carlan Shreve
Jacksonville, Florida

One of the finest gentlemen I have ever known.
Billy R. Hood
Retired USF&G Co.
Des Moines, Iowa
Email: brh1@aol.com

Pam, Jay and I were both so saddened to learn of your Dad's death. I remember what a kind man he was to all of us Pi Phis when we visited his home while we were in college. Jay has always respected your Dad as a wonderful role model in the insurance business. Please give your Mom a hug from us. We will keep you and your family in our prayers.
Fondly,
Jay and Mary Ann Hollowell
Helena, Arkansas
Email: maryann@hnb.com

---