Ted E. Bueter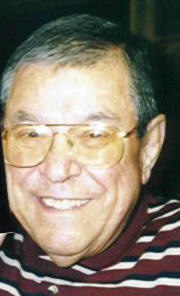 Obituary Notice
Ted E. Bueter, 71, of Little Rock and Hot Springs passed away April 12, 2003 surrounded by his family. Born October 22, 1931 in Quincy, Illinois. His early years were in Danville, Illinois. From 1951 to 1955 he served in the United States Air Force. Ted attended the University of Illinois, then began his career in the commercial baking business. In 1961 Meyer's Bakery brought him to Little Rock as sales manager. In 1967 he changed his profession to the real estate business joining Rector Phillips Morse as a salesman. He opened his own firm beginning with Hughes, Vroman Bueter, then Bueter-Gibson which became Bueter Realty and served on the board of directors of the Little Rock board of Realtors. His retirement found him enjoying Lake Hamilton.
He is survived by his wife of 51 years, the former Barbara Pearson, also of Danville, Illinois, their son Randy Bueter, married to the former Patricia McMath and three grand-daughters, Sydney Anne Blackmon, wife of Bentley Blackmon, Bonnie Kate Bueter and Jennifer Tia Bueter.
In lieu of flowers, memorials may be made to Catholic High School for Boys.
Mass of Christian burial will be on Wednesday, April 16, 2003, at 9:30 a.m. at Christ The King Catholic Church with internment to follow at Arkansas State Veteran's Cemetery. Visitation will be on Tuesday, April 15, 2003, at Ruebel Funeral Home from 4:30 until 6:30 p.m. Arrangements are by Ruebel Funeral Home.
---
Register Book
Barbara, You may not remember me, but Ted stood in as my daughter's (Heather) godfather 34 years ago. He was a friend of my ex-husband Bud Runshang. I just read in the online newspaper of your loss of Ted and I wanted to express my sympathy to you and your children. I am living in Mobile, Alabama, now where Heather and her husband Joe and their three children live. I remember how nice you and Ted were to me all those many years ago. He was a fine man.

Mary Runshang mary.run@excite.com
Mobile, Alabama


Very sorry to hear about your husband's and father's death. He was a fine man with a great smile and a beautiful heart. I can vividly remember watching Packer games at your home and what a warm and caring neighbor that he always was. I am sure that God will comfort you in this time of sorrow. I will remeber you in my prayers. If you are in New England, come see me and my family.

Charles M. Collins CCollinsMD@cox.net
Portsmouth, RI
---