Arthur Bruce Buck, Jr.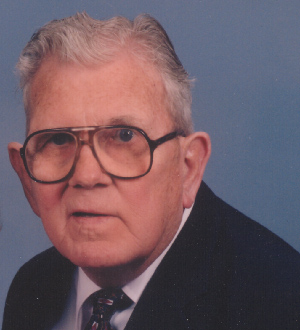 Obituary Notice
Arthur Bruce (A.B.) Buck, Jr. age 86, of Little Rock, died on Wednesday, July 30th. He is survived by his wife of 60 years, Virginia Davidson Buck. Mr. Buck was born in Memphis, TN, the son of Arthur Bruce Buck, Sr. and Lola Richardson Buck. He graduated from Little Rock High School, where he was drum major and played trombone with a popular dance band. He served with valor in the Navy in World War II, and participated in the invasions of Guadalcanal, Okinawa, Southern France and Sicily. He retired from Southwestern Bell Telephone Company after 43 years. He was a member of Trinity United Methodist Church and a long time member of First United Methodist Church in Forrest City.
In addition to his wife, he is survived by 2 sons, Bruce Buck (Fran) of Hope and Brantly Buck (Kate) of Little Rock, a sister, Cordelia Buck Stumberg, of St. Charles, MO, and 4 grandchildren, Philip, David, Jenny and James Buck.
Services will be Friday at 1:00 p.m. at Ruebel Funeral Home Chapel, officiated by Rev. Walter Smith and Rev. Louann Murphy, followed by a family graveside service at Roselawn Cemetery.
The family requests that memorials be made to Trinity United Methodist Church, Mississippi and Evergreen, Little Rock, AR 72207, Central Arkansas Library System, 100 Rock St. Little Rock, AR 72201 or a favorite charity. The family extends its thanks to the staff of Pleasant Valley Living Center.
Arrangements are under the direction of Ruebel Funeral Home.
---
Register Book
Please accept my most sincere sympathy in the loss of your Father, Bruce. My sympathy to you, Frannie, as well as Jenny and James in the loss of your dear Father-in-law, and Grandfather. My thoughts and prayers are with you, and will be especially on Friday.
Love,
Rita C. Ward
North Aurora, Illinois
Email: rewrd13@juno.com

You are all in my thoughts and prayers. May God Bless and keep you.
Laquita Smith
Delight, Arkansas

A.B. was a great man and left his loving mark on all of us. My prayers are with you in your sorrow, but I am sure the angels have embraced him and that he is in peace.
Frances Lundy
Phoenix, Arizona
Email: franlundy@aol.com

"Blessed are they who mourn, for they will be comforted." Matthew 5:4 Please know that we are praying and will continue to pray for you all. We are so thankful you are comforted by God during this time as he reminds you of his assurances in scripture. As in the statement of Jesus to his followers in John 14:3, "And if I go and prepare a place for you, I will come back to take you to be with me that you also may be where I am."
We love you all.
First Baptist Church
Hope, Arkansas

We're praying for you and so sorry for the loss of such a treasure as a father and a grandfather. We know your family will always be blessed by the wonderful example and love he showed you for so many years.
Mike & Gretchen Ward & family
Omaha, Nebraska
Email: wards@5pillars.com
Precious in the sight of the Lord is the death of his saints. Psalm 116:15 Our prayers are with and for you in your time of deep loss. I am still recovering from the loss of my father. Remember our loss is heavens gain. Much Love to you'all, Bruce, Fran, Jenny, James and all. Tom and Mary Ward and Family
Thomas J. Ward
Omaha, Nebraska
Email: tward@ae4u.com
Our deepest regrets, sympathies, thoughts are prayers are with you at this time. It is easy to accept gifts from our Lord, and much more difficult to have them taken. But the Lord allows their memory and influence to remain with us. I really appreciate having had many opportunities to see and get to know A.B. during Tranksgiving visits to the Hope Buck Farm. He was very personable and likeable and will be greatly missed. Our love goes out to the entire family.
John & Cindy Ward & Family
Watkinsville, Georgia
Email: jct.ward@juno.com
---