Agnes Ross-Bilewicz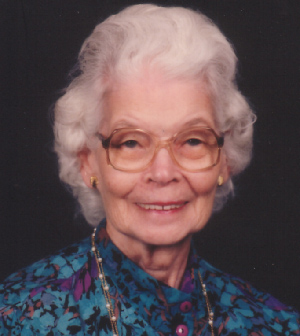 Obituary Notice
Agnes Ross-Bilewicz, born March 14, 1916, died October 24, 2003. She was born in the little town of Marmaduke, Green County, Arkansas, to William Thomas Ross and his wife Dovie Elenor. Tommy, as he was known, was a school teacher at the time at a one room school house. When the family moved to Jonesboro in the mid-twenties, Agnes soon entered into the local school system where she made her impression in the home-ec department. She was an excellent cook and a wonderful seamstress. When you saw her she was always dressed properly. She graduated in 1934, and worked where she could, as most did in those days of the depression. During World War II she worked in Memphis, aiding the war effort. There she met her husband to be, Anthony, known as Tony to family and friends. Tony was in the Army, stationed in Memphis. After the war, during the occupation age, the couple traveled much of Europe. In the early '60s, Tony retired from the Air Force and they returned to Jonesboro, to live out their lives. Tony died there in 1982. Agnes continued living with her mother while she was active in community affairs. Always attending church functions, Sunday school, regular worship services, circle meetings and the WSCS. Agnes was always active, sewing for friends and doing craft needle work. It seems she had something going all the time. Much of the time, after Tony's death, was spent trying to recover from an illness that plagued her the rest of her life, but would not let it get the best of her. She finally had to sell the old home place and move into a retirement center there in Jonesboro, staying but a short time, realizing that she needed to be closer to family. This is when she moved to Little Rock, into the Good Shepherd Center, and near her brother Wesley H. Ross. While at the Center she developed quite a circle of friends, playing in the band, going to Branson and other places. She enjoyed life there. In the end The Center is where she returned to end her life, there at the nursing home and among her friends.
Those that went before her were her parents, W. T. and Dovie Ross, her husband Anthony F. Bilewicz, her sister and brother-in-law, Jane and S. R. Richardson, of Earle, and a brother W.T. Ross, Jr., of Memphis. She leaves behind her brother and sister-in-law Wesley H. and Teiko Ross, of Little Rock, four nephews and five nieces.
There will be a graveside funeral service in Jonesboro, Arkansas at Jonesboro Memorial Park Cemetery Monday at 11:00 a.m., officiated by Reverend Jeannie Burton.
Arrangements are under the direction of Ruebel Funeral Home.
Memorials in lieu of flowers should be made to First United Methodist Church of Jonesboro, 801 S. Main Street, Jonesboro, AR, 72401; or First Methodist Church of Little Rock, 723 Center Street, Little Rock, AR 72201.
---
Register Book
Peggy Harris Douglas
Little Rock, Arkansas
Email: pdouglas79@yahoo.com
I will always remember you and everything you have done for me and all the family. You made a significant mark on my life that will always be there. You were always doing things for the entire family. You may not have had children of you own but you had plenty of kids. My daughter still remembers Silly Willie. Your love for us and the love of Uncle Tony, Grandmother, Granddad, Uncle Bill, my Mom (your sister) and my Dad is what made life grand for me. Each of you will be remembered in my heart in very special ways, forever.
Mary Agnes Richardson-Harris
Little Rock, Arkansas
---