Mark Andrew Barrett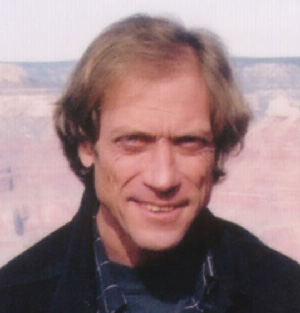 Obituary Notice
Mark Andrew Barrett of Little Rock, was called home to be with the Lord on Monday, September 1, 2003, at the age of 48. He is survived by his mother, Glenna Choate Barrett, his father, Milton R. Barrett Sr. of Little Rock, and his brother Milton R. Barrett II, M.D and his wife Dawn B. Barrett of Memphis, TN. Other survivors include aunts and uncles, Corene Choate Carpenter and Jackson H. Carpenter of Hamburg, AR, Irma Boyd Barrett and Donald A. Barrett of Huntsville, AL, Evelyn Meeks Barrett and Homer Dale Barrett of Chattanooga, TN and numerous cousins as well as one nephew, Jacob B. Barrett of Memphis.
Mr. Barrett was a graduate of Pine Bluff High School where he was the art editor for the school newspaper. He attended Mississippi College in Clinton, MS on an Arts Scholarship. He later attended the University of Arkansas at Little Rock and received a Bachelor of Arts Degree in English Literature. He worked for several years as a layout artist for Falcon Publishing in Little Rock.
Visitation will be from 5:00 to 7:00 p.m. Thursday at Ruebel Funeral Home, 6313 West Markham, Little Rock, AR. Funeral Services will be held at 11:00 AM Friday at Ruebel Funeral Home with Dr. Rex Horne officiating. Burial will follow at Roselawn Memorial Park, 2801 Asher Ave.
Arrangements are under the direction of Ruebel Funeral Home.
---
Register Book
Louise Tippit
Little Rock, Arkansas
jtippit@juno.com
Alan and Rebecca (Jones) Kauffman
Little Rock, Arkansas
Becky Thurman
Mark's neighbor on Longwood Rd.
Cammack Village, Arkansas
Richard D. Hunter
San Antonio, Texas
Email: rh4913@sbc.com
Goodbye Mark, I know you will be in a better place.
Stephen A. McIntyre
Little Rock, Arkansas
Email: jfms99@sbcglobal.net
Paul Allen
Searcy, Arkansas
Thoughts and prayers are with you and family.I grew up with Mark in Pine Bluff and had the pleasure to see him in Little Rock.
Mike Townsend
Little Rock, Arkansas
Email: mike townsend 07@aol.com
Neva Hathaway
Little Rock, Arkansas

As a next door neighbor on 36th Street in Pine Bluff, I remember a sweet, mannerly, and handsome young man named Mark... who always had a big smile and a friendly greeting. Years later, Mark and I met in Little Rock and, once again, I was touched by his kind presence. I believe that God knows when to "raise us up on Eagle's Wings and hold us in the palm of his hand." I know that Mark is wrapped in the eternal love of God and will experience the peace that passeth all understanding.
My prayers are with Mark and his family.
Sally Miller Perdue
Beijing, China
Email: myrabellem@hotmail.com

Mark was good person, I knew him from Dial all the way through PBHS. We lived two blocks from him on 36th street. God Bless Him and His Parents.
Take care!
Marcus Bailey
Ruston, Louisiana
Email: marcus@bayou.com
I graduated in 1973 with Mark. Please know the family is in my prayers.
Sister Emelia Ann (Bowers) Carrington O.S.B.
St. Scholastica Benedictine Monastery
Fort Smith, Arkansas
Email: emelia@scholasticafortsmith.org
Mark and his family will be in our prayers. I knew Mark as a childhood friend going back to Forrest Park Elementary.
Douglas L. Boling
Woodstock, Georgia
Email: doug.boling@hogfan.com
Joe Clement
Pine Bluff, Arkansas
Mark was a very talented individual and my friend. I will miss him.
Meigs Brainard
Pine Bluff, Arkansas
Email: mbfrompb@yahoo.com
The family of Mark Barrett is in our prayers. May the Lord who gives us eternal life give you grace and peace.
Carrie Baker-Sallee
Fort Smith, Arkansas
My thoughts & prayers are with Mark's family. Mark was always a pleasant & dear soul.
Lynn Jones Kell
Little Rock, Arkansas
Email: lkell@comcast.net
So sorry to hear of your loss. I'll always remember Mark as a kind and frendly person and classmate.
Carlton A. Taylor
Pine Bluff, Arkansas
Email: carlton.taylor@usace.army.mil
David Holmes
Hendersonville, Tennessee
---