Virginia Mitchell Bailey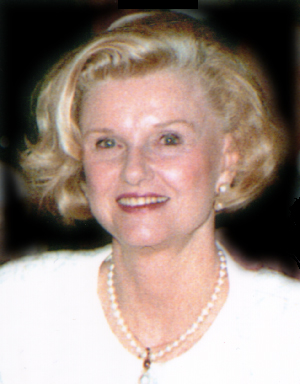 Obituary Notice
Virginia Mitchell Bailey, of Little Rock, surrounded by her family and loved ones, passed away on June 1, 2003. She was born in El Dorado, Arkansas on August 7, 1925 to Dr. Joseph Grover Mitchell and Maude Henderson Mitchell. She was preceded in death by her parents and by her brother, Joseph Grover Mitchell, Jr.
Virginia is survived by her husband of almost 58 years, H. A. Ted Bailey, Jr., M.D., whom she married on June 23, 1945 at First Baptist Church in El Dorado.
Virginia was most proud of what she called her "wonderful family." She and Dr. Bailey have five surviving children, who, together with their spouses, are Mary Maude Shafer and Robert Shafer of Little Rock; H. A. Ted Bailey III and Maranda Bailey of Little Rock; Virginia Jo McCray and Kevin McCray of Bucharest, Romania; John S. Bailey and Patricia Bailey of Little Rock; and Madeline Henry and David Deming Henry of Little Rock. She is survived by 22 grandchildren, Laura, Mary Catherine, Philip, and Sarah Shafer; Ben, Ted IV, Ali, and Barrett Bailey; Virginia, Jason, Mitchell, Elianna, Melissa, James, Emily, and Elizabeth McCray; Rachael, Erik, Eddie, and Rebecca Bailey; and Mary and Johnny Henry. She also is survived by her nephew, Joe Mitchell, of Chicago, Illinois, and by her nephew and niece, Abe Mitchell and Virginia Ann Mitchell, both of Miami, Florida.
Virginia attended El Dorado public schools through the tenth grade. She graduated from Gulf Park By-The-Sea High School in Gulfport, Mississippi in June 1943. She attended the University of Arkansas in the summer and fall of 1943, where she was a member of the Pi Beta Phi Sorority. She also was elected Secretary of the University freshman class. In 1944, she transferred to Lindenwood College for Girls in St. Charles, Missouri for one year. She attended Baylor University in Waco, Texas while Dr. Bailey interned at Scott White Hospital in Temple, Texas. She graduated from Baylor in June 1948. While Dr. Bailey completed his ear, nose and throat residency in New Orleans, Louisiana, she took graduate courses at Tulane University and at the Soulé Business School.
Virginia and Dr. Bailey returned to Little Rock in 1953 after Dr. Bailey completed his service in the United States Navy during the Korean War at the Millington Naval Hospital in Millington, Tennessee. Together they founded Bailey Corporation, a real estate development, management and investment company, in January 1956. Their projects included the Foxcroft, Campus Place, McClellan Place, St. Charles, and St. Thomas Subdivisions and the Foxcroft and Andover Square Townhomes. Virginia personally planned and directed the development of the River Bend Townhomes on the banks of the Arkansas River, where the Baileys made their home.
Virginia was President of Bailey Corporation from 1966 to 1991, which later was reorganized as Bailey Properties, LLC, where she continued as Vice President. She was the Manager and major stockholder of the family-owned Bailey Timberlands in Sabine Parish, Louisiana. She was Executive Director of Bailey Sabine Developments, which developed the Bailey Bluff Condominiums at Cypress Bend Hotel and Resort Park on Toledo Bend Lake near Many, Louisiana. She also developed the Miller Bay, Pegleg Cove, and Little Flock Subdivisions in Sabine Parish.
In 1976, Virginia's leadership in business affairs was recognized by her being the first woman elected to the Eighth District Federal Reserve Bank Board in St. Louis, Missouri, thereby becoming one of the first four women ever to be elected to District Bank Boards of the Federal Reserve nationwide. In 1988, she was chosen to be among the first group of nine women to become members of the Downtown Rotary, Club No. 99.
Virginia served on the Advisory Board of the National Museum of Women in the Arts in Washington, D.C. She was a member of the Fine Arts Club since 1960. She served for 17 years on the Arkansas Arts Center Board of Trustees and for 12 years on the Arts Center Foundation Board. She was Secretary of the Arts Center Board in 1974, President of the Board from 1976 to 1977, and Chairman of the Board from 1977 to 1978. In 1989, she received the Winthrop Rockefeller Annual Award for outstanding service to the Arts Center. In 2001, the Arts Center Board named the Virginia and Ted Bailey Gallery in her honor.
From 1992 to 1995, Virginia served on the Advisory Board of the University of Arkansas School of Architecture. She served as the first President of the Friends of the Arts at the University of Arkansas at Little Rock. In 1988, she and Dr. Bailey received the Builders Award from UALR for outstanding service to the University. Virginia and Dr. Bailey played a significant role in the establishment of the Faculty Excellence Awards at UALR and continue to sponsor the Bailey University Teaching Award for Excellence, inaugurated in 1988. In June 2002, UALR opened the Alumni & Friends Center, named The Bailey Center in honor of Virginia and Dr. Bailey.
In recognition of their philanthropic support for so many charitable groups in the community and elsewhere, and by nomination from UALR, Virginia and Dr. Bailey received the Philanthropist of the Year Award from the Arkansas Chapter of the National Association of Fundraisers in 1994. In 1990, Virginia received one of the annual Outstanding Women of the Year Awards sponsored by Boatmen's Bank. She was honored with the Arkansas Arts and Humanities Award (AAHA) in 1995. She was a long-time member of Fifty for the Future, the CARTI Board, the UALR Foundation Fund Board, the Visiting Nurses Association Board, the Baptist Hospital-operated Parkway Village Board, and the Florence Crittenden Home Board.
Virginia was a sustaining member of the Junior League of Little Rock and a faithful member of Little Rock's First Baptist Church. Together with Dr. Bailey, she was a member of the Country Club of Little Rock since 1954.
Memorials may be made to the Arkansas Arts Center, the UALR Foundation Fund, Little Rock's First Baptist Church, or to a charity of the donor's choice.
Visitation will be at the Ruebel Funeral Home at 6313 West Markham Street from 5:00 to 7:00 p.m. on Wednesday, June 4, 2003. The funeral service will be held at Little Rock's First Baptist Church at 62 Pleasant Valley Drive at 11:00 a.m. on Thursday, June 5, 2003, to be followed by a burial service at Roselawn Cemetery.
---
Register Book
Jack Evans
Little Rock, Arkansas

Our thoughts and prayers are with the family. We feel it was an enormous honor and pleasure knowing Virginia.
God Bless

Veeta Biggers
Little Rock, Arkansas
Email: veeta@thomathoma.com

Pat H. DuBose
Little Rock, Arkansas
Email: pdubose@sbcglobal.net

Ted and family--my condolences to all of you.

Betty Danielson
Little Rock, Arkansas
Email: betty@arktennis.com

Our thoughts and prayers are with you.

Bill and Belinda
Little Rock, Arkansas
Email: bhrunner@alltel.net

Mary Maude & Family, Many years ago we were neighbors on Lenon Drive. I have so many fond memories of those wonderful days. Your mother was a wonderful lady. Love to each of you.

Paula Pendergrass Allen & W.L. Pendergrass Family
Little Rock, Arkansas
Email: pallen@alltel.net

Our prayers are with you. If you need anything, give us a call. She has left a legacy.

Richard H. Dixon Jr.
Little Rock, Arkansas
Email: sw2001@swbell.net

Thinking of you.

Camille Moriau
Little Rock, Arkansas
Email: camille@arktennis.com

God bless The Wonderful Bailey Family.
Thank you for bringing me to Little Rock, and all the memories.
All of you will be in our prayers.

Elissa and Joe Kuykendall
Little Rock, Arkansas
Email: Joe@RaineyRealty.com

Dr. Bailey and Family.
Our thoughts and prayers are with you. I am very sorry to hear about Mrs Bailey.

Donna Heflin
Star City, Arkansas
Email: heflin@seark.net

Ted, Virginia will always be in our memory, and our thoughts will always be with you. Let us know if we can do anything, ever.

Lovingly, Gloria Gardner
Little Rock, Arkansas
Email: gjg@aristotle.net

My Aunt Virginia was a great woman with a strong heart. I miss her very dearly and only wish that I could see her again and for her to meet my son, Josef Conrad. I do know that she is in a better place know though.

Beth Stojsik (Hetterick)
Cabot, Arkansas (currently in Germany)
Email: bethstojsik@yahoo.com

The entire family is in our thoughts and prayers, may God bless you all and help you through this most difficult time. It was a blessing and a joy to have known and worked with Mrs. Bailey, she will be missed by all.
Scott and Stacey Ray
Title: EVP/CFO Bailey Properties, LLC
Little Rock, Arkansas
Email: sray0713@sbcglobal.net

Dr. Bailey, John, Patty, and kids,

Mrs. Bailey was not only a beautiful woman outside and in but also a very talented and inspirational lady. She will be missed by all of us who knew her. Your entire family is in our thoughts and prayers at this difficult time.
Love,
Johnny and Sharon Heflin
Little Rock, Arkansas


Mr. and Mrs. A. Howard Stebbins, III
Little Rock, Arkansas

Heart felt condolences to the family of Virginia Bailey.
Father Philip Panackal
Holy Souls Catholic Church
1003 N. Tyler St., Little Rock, Arkansas
All our love and prayers
Barry Jordan Family
Missionaries
Arad, Romania
Email: jordanfamilynz@hotmail.com
---